If you're a cybersecurity practitioner who has presented on a cybersecurity topic in front of a group of young girls, then you have had the chance to learn these valuable lessons:
How to remain calm and collected when you're being blown away by an insane amount of curiosity and passion.
How to answer tough questions like, "We hear about the bad guys all the time, who are the heroes – and what soft skills do they need to be successful in the SOC?"
How to change your mindset and processes when it comes to hiring and growing the next generation of cybersecurity innovators and leaders.
A New Generation of Secure Coders
Earlier this summer, Palo Alto Networks partnered with Black Girls CODE (BGC) to host a two-day cybersecurity event for girls in two age groups: 10 to 12 and 13 to 17. The agenda and activities were carefully designed to provide the girls with an opportunity to learn about cybersecurity, including who works in this dynamic and growing field, the skills and experiences required for different career paths within it, and how to be safe and secure online at home and at school.
We anticipated a lot of learning and even a few transformations to occur. Indeed, the girls learned a lot. But we did too, and many of the transformations were happening on our side. We didn't need to convince the girls that cybersecurity offers interesting career paths. They already knew. What they were interested in learning more about was what options and resources are available for them to deepen their knowledge – and how they can get hands-on practice.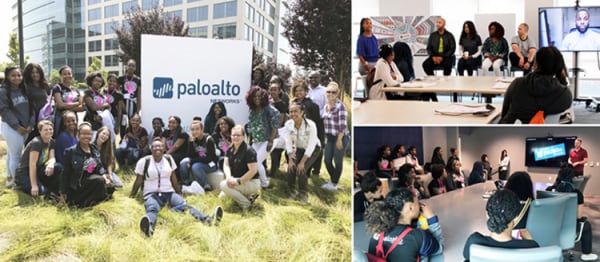 The Black Girls CODE mission is to introduce programming and technology to a new generation of coders, coders who will become builders of technological innovation and of their own futures. "Our partnership with BGC gives us the opportunity to share the cybersecurity knowledge that will keep these girls safe and enhance the secure coding skills they are building," says Rolanda Small, Inclusion and Diversity Business Manager, Palo Alto Networks.
During the visit to Palo Alto Networks, the girls heard from employees in a panel session focused on navigating careers; visited the Security Operations Center (SOC) to learn how our Information Security team is keeping our data safe; and spent time with the women of Unit 42 for a workshop on how to spot phishing and the potential dangers of social media.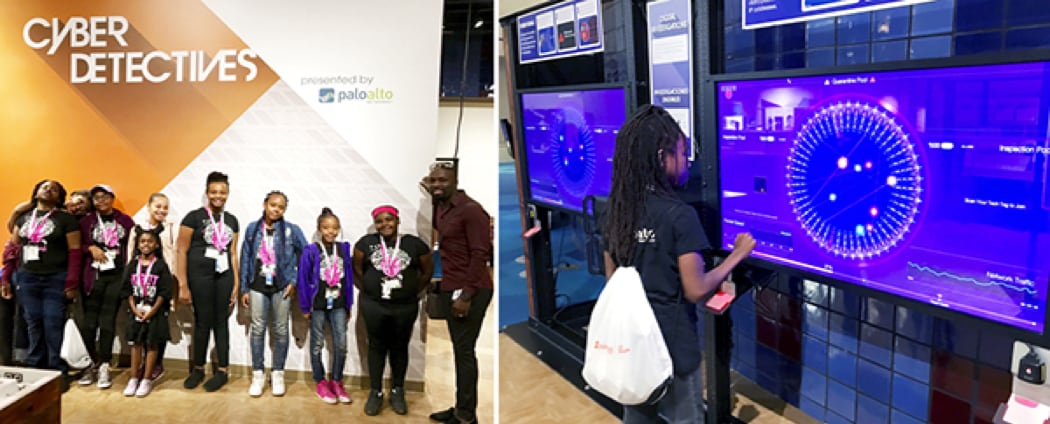 A group of 40 girls from BGC toured The Tech Museum of Innovation in San Jose and visited the Palo Alto Networks-sponsored Cyber Detectives Exhibit. They had the chance to attack malware and tour mission rooms and meet members from Ujima, the Palo Alto Networks Black Employee Network. "By giving girls a chance to learn about cybersecurity early on, we're giving them the ability to hone valuable life skills like imaginative problem-solving, prototyping, iterating, failing fast and recovering, documenting failures and successes, sharing responsibility, paying attention to safety, setting goals, planning projects, researching, and so much more," says Lucas Moody, vice president and CISO at Palo Alto Networks, and Ujima's executive sponsor. "Through our partnership with BGC, we're hoping to inspire these girls to explore a career in cybersecurity because the opportunities are there and are only growing."
When it comes to the future of young girls from BGC and other organizations, we see the passion for learning and making a difference shine through. We believe an internship today is critical for shaping tomorrow's cybersecurity leaders and innovators. We've got a lot to learn from them.
Women Technologists Uniting
By working with organizations like BGC and AnitaB.org, we are working to build an inclusive and diverse workforce. This is core to achieving our mission of protecting our way of life in the digital age and empowers us to solve the world's toughest security challenges. From September 26 to 28, Palo Alto Networks will be participating in the world's largest gathering of women technologists. We are excited to be participating as attendees, speakers and mentors, to advance the cybersecurity opportunities that are available for girls and women. Come visit us at booth #8300 at GHC 2018 to meet the women technologists of Palo Alto Networks and pick up a free copy of the limited pre-release edition of our new book, Cybersecurity Career Guide: Who Works in Cybersecurity? How We Got Started. Why We Need You.