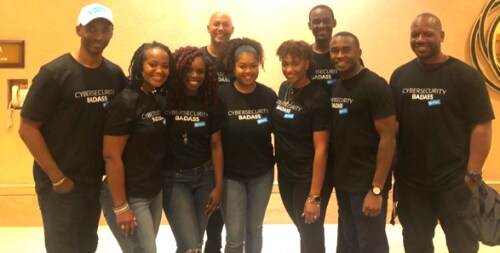 Left to right: Abdoulaye Fofana, Rolanda Small, Samantha Pierre, Bill Walton, Mikaela Martin, Nicole Cato, Damilola Longe, Grant Bush, Robert Watson
The National Society of Black Engineers (NSBE) Conference showcases black students and professionals who have a passion for science, technology, engineering and math (STEM), who are high achievers in these fields and who are channeling their dedication to advance their communities and society at large.
Two weeks ago, our team from Palo Alto Networks attended the NSBE Region 6 Fall Conference held in Las Vegas, NV. We were proud to be a Platinum Partner with NSBE for this event. It is not only important that we continue our strong partnership with NSBE, but that we also continue to show up to events like these to recruit the best talent and educate attendees about the dynamic field of cybersecurity.
Our amazing team did just that: they showed up and conquered! We hosted a networking event, had a booth at the career fair, and seven of our ten attendees were speakers. "Cybersecurity seems to be the topic of all the discussions thanks to the Palo Alto Networks sessions and interaction with attendees!" said Abdoulaye Fofana, Sr. Service Now Engineer.
Here are some mic-drop moments from our time at the conference:
The NSBE leadership presented us with an award for our strong and solid partnership as the only Platinum Sponsor.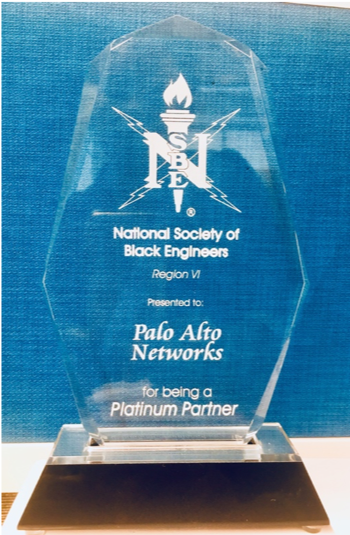 "I think that it's really important for Palo Alto Networks to extend our focus on Inclusion & Diversity. Being able to bring in diverse sets of people of who have different thoughts and opinions will help us build the best products. Inclusion & Diversity should be a focus for Palo Alto Networks today and in the future so that we can build the best possible workforce we can ever have. That's really where it starts at, coming to places like NSBE to find the best talent there is across a spectrum of talent." Damilola Longe, senior engineer, Palo Alto Networks
Mikaela Martin, technical sourcer at Palo Alto Networks, and I held sessions on "How To Rock Your LinkedIn Profile" and "How To Be Successful In Your First 90 Days Of A New Job" respectively.  "I think it's important for Palo Alto Networks to support NSBE to foster a more diverse and inclusive culture and bring in fresh new ideas from the college population," said Nicole Cato, systems engineer, Palo Alto Networks. "The sessions we held at the conference show that we're committed to a person's overall success even at the earliest stages of their career."
We hosted two technical sessions educating professionals and students on how to break in to the cybersecurity industry, led by Damilola Longe, senior engineer; Nicole Cato, systems engineer; Jamie Fitz-Gerald, product line manager; and Bill Walton, senior manager of Talent Development.



"I had a great time at the Palo Alto Networks session yesterday. It was a really interesting session being able to hear and speak to some of the key professionals in the industry like Jamie Fitz-Gerald and Nicole Cato. They explained to us the different products Palo Alto Networks has and how the company is at the forefront of cybersecurity, especially with the Cyberthreat (sic) Alliance. Also, they play a key role in educating people that are growing up and helping them realize that the Cybersecurity Industry is here and it's not going anywhere. This is going to be at the forefront of every company's mindset as they move forward. I'm personally glad to have gotten the chance to attend this session and that Palo Alto Networks showed up. Hopefully one day, I will be at Palo Alto Networks!" Michael Boswell, student attendee
Samantha Pierre, product marketing manager at Palo Alto Networks, presented awards to the Drone Competition winners for NSBE Jr., which was also sponsored by Palo Alto Networks.
The team spent a total of 2 days connecting with students and professionals, whether it was during the networking event at the Soul Lounge, career fair, or a speaker session. Thank you to our Black Employee Network, Ujima, and our Inclusion and Diversity team who planned and executed the entire experience. The team spent a great deal of time spreading their wealth of knowledge on cybersecurity at the conference and encouraging attendees to join us on our mission to protect our way of life in the digital age.