As part of our commitment to inclusion and diversity in the cybersecurity industry, it is important that our efforts expand globally. It is also no surprise that women are hugely underrepresented and needed in this industry. This is why our recent alliances with AnitaB.org and Perspektywy Education Foundation are important. These partner organizations host events that highlight the achievements of women in tech and provide opportunities for collaboration, professional development, and networking.
Grace Hopper Celebration India
From November 14-16, 2018, five of our colleagues represented Palo Alto Networks at the Grace Hopper Celebration India (GHCI) hosted by AnitaB.org. They joined over 5,000 other attendees within the tech industry to celebrate women technologists and their valuable contributions. The three-day conference offered both technical and non-technical workshops that help women sharpen their skills and develop their careers.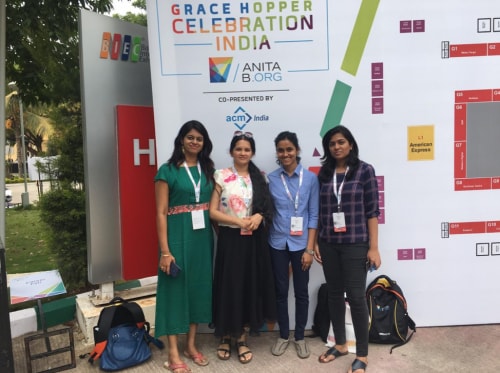 Left to right: Apoorva Sathyanarayana, Madhuri Karanth, Nikita Uday (student scholar), Asha Shekhawat
In an effort to increase the number of girls and women in cybersecurity, we partnered with the Rethink Foundation and sponsored two students to attend GHCI through the Women in Tech (WIT) Learning Program. This program is a four-week learning program designed to equip female engineering students with information, guidance, and support to apply to various scholarship opportunities. The students were very appreciative of our sponsorship.
"I would like to convey my heart-felt gratitude for giving me this opportunity to attend GHCI'18. I am extremely grateful to Palo Alto Networks for giving me this wonderful opportunity. I look forward to meeting you and the team during GHCI this year and convey my gratitude in person. Thank you so much once again for this amazing opportunity!" Bhairavi Sameer Shah, 3rd year computer science and engineering undergraduate student, Govt. Model Engineering College, Kochi, India
Perspektywy Women in Tech Summit
Palo Alto Networks also recently sponsored the Perspektywy Women in Tech Summit, held November 27-28, 2018 in Warsaw, Poland. This event, in its first year, is reportedly one of the largest gathering of women in IT and tech in Europe with over 2,500 women in attendance. Mariya Gabriel was one of those women. Ms. Gabriel, the European Commissioner for Digital Economy and Society, has been strongly committed to increasing women's participation in the digital sector throughout the European Union. Below is a photo of her at our booth after conversing with Palo Alto Networks employees.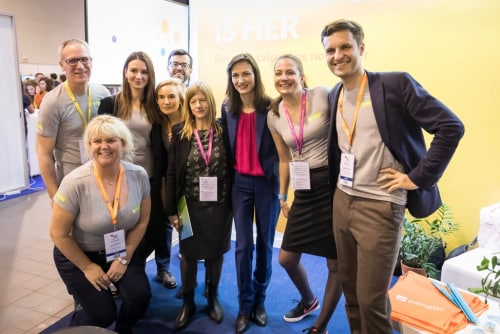 Left to right: Tomek Pietrzyk, Vera Petrtylova, Ewa Sniechowska, Camilla Aro, Keith Cantillon, Danielle Kriz, Commissioner Mariya Gabriel, Femke van Kesteren, Akadiusz Kotowski
Liat Hayun, vice president of Product Management at Palo Alto Networks, was a speaker at the event. She presented to a full room on the topic of cyberattacks, noting that the skills required to defeat cyber adversaries come from diverse employees- highlighting the critical need for diversity in cybersecurity.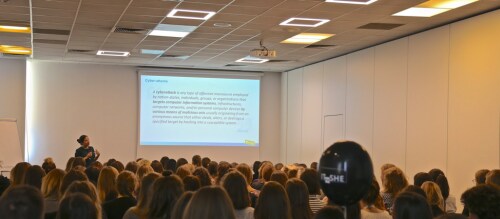 Liat broke down different approaches hackers leverage with Microsoft Office, the most common tool in today's tech world, as examples of cyberattacks for her audience. Understanding these types of cyber adversaries' tactics is crucial because people will open nearly any office document, even from an untrusted source.
"As attacks become more creative and sophisticated, we need more people in cybersecurity. Specifically those with different backgrounds and ways of thinking." Liat Hayun, vice president of Product Management, Palo Alto Networks.
We need more people in cybersecurity, period. By sharing and educating around cybersecurity we can open the door for them to join us in our mission to protect our way of life in the digital age. Palo Alto Networks was honored to support these two recent events and we look forward to continuing to contribute to such efforts globally.