Welcome to the cybersecurity conference you've been waiting for. Join Palo Alto Networks at Ignite '20, a two-day deep dive into everything you need to know to future-proof your cybersecurity. Featuring visionary leaders, industry experts and more, you'll get to hear straight from the innovators who are shaping the way we secure tomorrow. The Ignite '20 agenda gives you the opportunity to hear from organizations including MIT, Nationwide, Schlumberger, 3-GIS and Accenture, telling real-world stories of how they've transformed networks securely, increased automation to combat sophisticated threats and improved their cybersecurity posture. 
Each day will feature dynamic keynotes from Palo Alto Networks leaders – including Founder and CTO Nir Zuk and EVP, Chief Product Officer, Lee Klarich – engagement opportunities with a variety of industry experts and event sponsors, free product training sessions, and more than 40 breakout sessions to help you accelerate digital transformation with cybersecurity that is integrated, automated and simple. Check out the Ignite '20 agenda today to see what's in store.  
You'll also get the chance to hear from real Palo Alto Networks customers who have found success using our tools to navigate the ever-evolving cybersecurity landscape. Register today to: 
Hear from organizations like

MIT, AutoNation

and

Jefferies

 about how they managed network transformation and secured access for today's remote and hybrid workforces.

Get insights directly from 

QuikTrip, Nationwide

and

Dish Network

 on the latest intelligent, proactive network security solutions.

Attend panel discussions with visionary speakers from

 Schlumberger, Boardspan 

and

Caesars Entertainment

 as they examine the foundational aspects of our field and vital topics for cybersecurity success. 

Hear from 

3-GIS

and

 ElevenPaths

 on the latest thinking and innovation around securing cloud development for organizations. 

See how the capabilities of the autonomous SOC enabled 

Accenture, CRITICALSTART

and

Infosys 

to securely combat new and sophisticated threats. 
An Agenda Tailored to Feed Your Interests – and Fit Your Schedule.  
This year's digital conference will offer a mix of both timely content and sessions that live on-demand. Set reminders for keynotes, training sessions and live Q&As, while you can access the breakout content anytime, anywhere.
We want you to get the most out of Ignite '20, so we're making it easier than ever to tailor your experience to exactly what you need. The agenda builder makes it simple to create a custom schedule and add it to your calendar. Start browsing our content curriculum today and plan ahead to identify all your "must-see" sessions. Highlights include: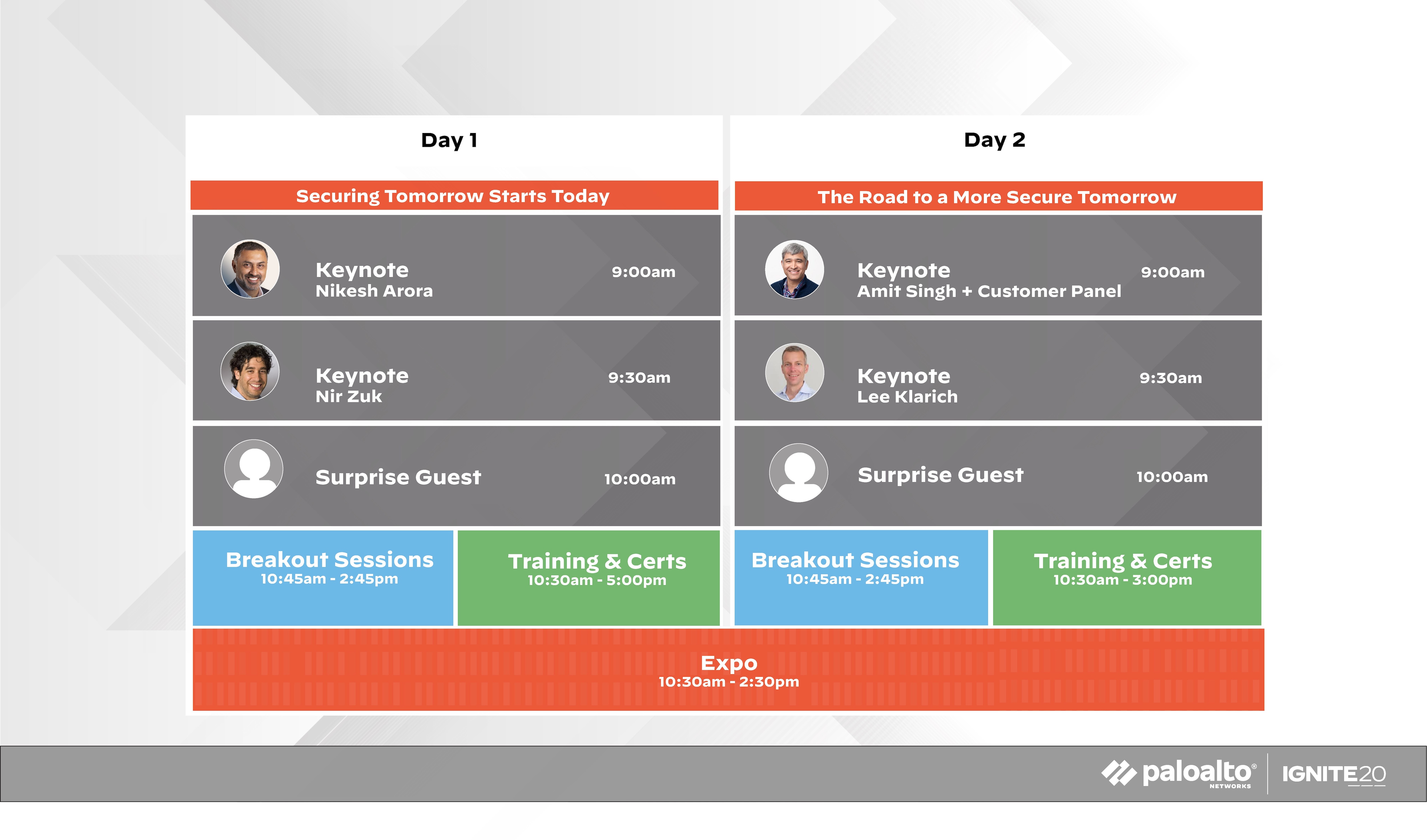 Keynotes
Keynotes and training sessions will broadcast live on Nov. 17 and 18 in the Americas, and Nov. 18 and 19 in Europe and Asia. Keep in mind these will not be accessible post-conference, so be sure to add the keynotes that excite you to your schedule so you're sure to catch them.
Palo Alto Networks CEO

Nikesh Arora

 and

Nir Zuk

 explore what's coming next for our digital world and how to secure tomorrow's innovations. 

Discover the latest disruptive technologies with 

Lee Klarich

. 

Get an insider look with Palo Alto Networks president 

Amit Singh

 in thought-provoking fireside chats with customers about how they use Palo Alto Networks technology to disrupt their industries. 
Event EXPO 
Our virtual Expo Hall allows attendees to network with product leaders and innovators, watch demos and learn about the latest Palo Alto Networks technology. You'll be able to participate in live coffee table discussions with experts, hear from event sponsors, join exclusive communities and experience all the resources Palo Alto Networks has to offer.
And speaking of offers, we hope you'll join our Passport to Prizes contest! Simply visit our virtual booths for a chance to win an Amazon gift card. The more booths you visit, the higher your odds of winning. Read more about Passport to Prizes.
Training and Cert Prep Sessions 
Designed for cybersecurity professionals of all levels, our training sessions will ensure you're ready for whatever comes next in your business. With a range of offerings, you'll be able to strengthen your security skill set, confidently deploy Palo Alto Networks products and realize ROI in record time. Spots are available on a first-come, first-served basis. Learn more about trainings and certifications. 
Breakout Sessions  
Each day after the keynote sessions end, the entire breakout session curriculum for that day will go live – which means you can attend any session you want, when you want, for up to 30 days after the event.
If you're interested in interacting with the speakers and content experts for a live Q&A during the broadcast sessions, be sure to follow the live times listed on the agenda.
We can't wait to (virtually) see you at Ignite '20!