Global leaders have long recognized the power of digital technologies. Over the past year, new challenges and opportunities have brought that into sharper focus than ever before. Nearly every organization faced the daunting task of securing their people, scaling remote work, protecting critical assets and ensuring business continuity.
There was precious little room for gaps in cybersecurity, while world events continue to put pressure on organizations in unexpected ways. What does it mean to navigate the digital age, when so much is changing day by day?
How can business and technology leaders ensure the security of their organizations while keeping pace with accelerated digital transformation such as the shift to cloud, the rise of machine learning and the growth of the Internet of Things?
To help executives understand what it takes to prepare for the unexpected and stay vigilant in maintaining modern cybersecurity best practices, Palo Alto Networks has published the third edition of Navigating the Digital Age.
In this book, 50 thought leaders share their ideas on a range of vital topics, from addressing disruptions caused by COVID-19, to driving business transformation through innovation. Some of the best cybersecurity minds across the world have chimed in, and new authors in this edition include:
Nikesh Arora, CEO and Chairman, Palo Alto Networks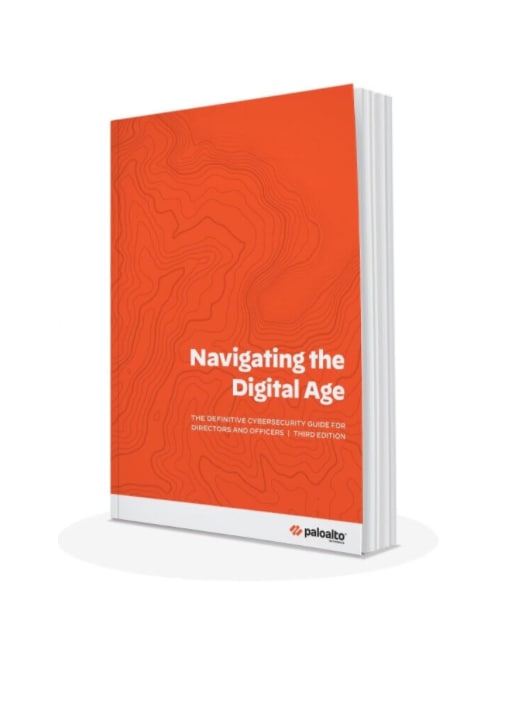 Gary Bolles, Chair for the Future of Work, Singularity University
Vint Cerf, Vice President and Chief Internet Evangelist, Google
Mario Chiock, Fellow and CISO Emeritus, Schlumberger
Bruce Crawford, Retired CIO, U.S. Army, Department of Defense
William Dixon, Head of the Centre for Cybersecurity, World Economic Forum
Gemma Garcia Godall, Founder, Instituto de Inteligencia Emocional
Matt Gyde, CEO, Security Division, NTT
John Paul Lonie, Head of Security Operations, Iress
Sean Morgan, Director of Cybersecurity Policy and Partnerships, Palo Alto Networks
Richard Seiersen, CEO of Soluble
Mike Towers, CISO, Takeda Pharmaceuticals International
Yang Zhoulong, Vice President and Board Director, Yunda Group
Designed to educate the C-suite and board members about cybersecurity, this book covers plenty of ground. It is not meant to be read front to back. Flip through the pages and read the chapters that are most relevant to you. Keep it on your desk or laptop for reference. We hope this collection of ideas will help lead you to a safer and more secure future.
Get your digital copy of Navigating the Digital Age: The Definitive Cybersecurity Guide for Directors and Officers.